Paul was born in an Amish family in the heart of Lancaster, PA where the love of horses ran in the family. Paul's Grandfather broke and trained many world famous track horses while his father used horses every day on the farm. With this heritage, he learned to trust, honor, love and respect horses at an early age. Paul finally got his own horse for his 16th birthday, and eventually moved to Colorado. During that time, he worked for Rick Noffsinger, a local trainer, and learned many fundamental techniques. Gradually, he began doing training of his own and soon it became a full time job. After many scrapes, falls, and broken bones he learned the importance of doing lots of ground work to get to know your horse before getting on it's back.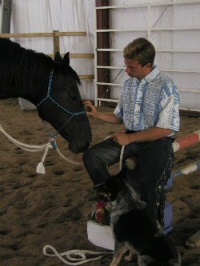 People began to notice his "magic touch" with horses and as he watched and worked with the best trainers in the world, he established his own methods. Paul says, "You can learn something good and helpful from everyone if you just look for it." Paul loves challenges and has not found a problem horse he could not cure. He is passive, yet progressive; kindhearted, yet firm, and has developed a keen understanding for each horse he has worked with. His goal is to eventually become an Olympic Dressage Rider and Reiner. Paul is a committed Christian and trustworthy trainer who wants you to find the best in your horse and yourself.

"The way you treat your horse is most likely the way you treat life!"
Paul Esh
Paul and Crystal Esh were married March 27, 2004